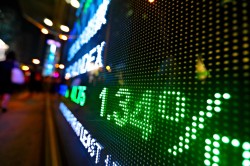 Djerriwarrh Investments Limited (ASX:DJW) insider John Paterson purchased 35,000 shares of the company's stock in a transaction dated Tuesday, February 12th. The stock was bought at an average cost of A$3.19 ($2.26) per share, for a total transaction of A$111,650.00 ($79,184.40).
John Paterson also recently made the following trade(s):
On Thursday, February 21st, John Paterson 5,728 shares of Djerriwarrh Investments stock.
Shares of ASX:DJW traded up A$0.03 ($0.02) during midday trading on Friday, hitting A$3.16 ($2.24). The company's stock had a trading volume of 100,877 shares. The company has a market cap of $703.72 million and a P/E ratio of 16.12. Djerriwarrh Investments Limited has a fifty-two week low of A$2.94 ($2.09) and a fifty-two week high of A$3.45 ($2.45). The company has a debt-to-equity ratio of 10.86, a quick ratio of 0.12 and a current ratio of 0.12.
The business also recently announced a Interim dividend, which was paid on Thursday, February 21st. Investors of record on Thursday, February 21st were paid a $0.10 dividend. This represents a dividend yield of 2.97%. The ex-dividend date of this dividend was Tuesday, January 29th. Djerriwarrh Investments's payout ratio is presently 102.04%.
COPYRIGHT VIOLATION WARNING: "Djerriwarrh Investments Limited (ASX:DJW) Insider Acquires A$111,650.00 in Stock" was reported by PressOracle and is the property of of PressOracle. If you are reading this news story on another domain, it was illegally copied and republished in violation of United States and international trademark & copyright law. The correct version of this news story can be read at https://pressoracle.com/news/2019/03/15/djerriwarrh-investments-limited-asxdjw-insider-purchases-a111650-00-in-stock.html.
Djerriwarrh Investments Company Profile
Djerriwarrh Investments Limited is a self managed investment trust. The firm invests in public equity markets of Australia. It employs a combination of in-house and external research to make its investments. Djerriwarrh Investments Limited was founded in November 1989 and is based in Melbourne, Australia.
See Also: Why Net Income is Important to Investors
Receive News & Ratings for Djerriwarrh Investments Daily - Enter your email address below to receive a concise daily summary of the latest news and analysts' ratings for Djerriwarrh Investments and related companies with MarketBeat.com's FREE daily email newsletter.